Rowville Secondary College will endeavour to update our community with the latest on COVID-19.
Updates will also come through Compass. Thank you for your patience and understanding.
Please click here for updates from Department of Health and Human Services, Victoria State Government.
*COVID-19 Wellbeing Support, Resources and Information is provided regularly from our RSC Wellbeing Team  – scroll down on this page to access it.
UPDATES & LATEST NEWS
2021
TERM 4
October & November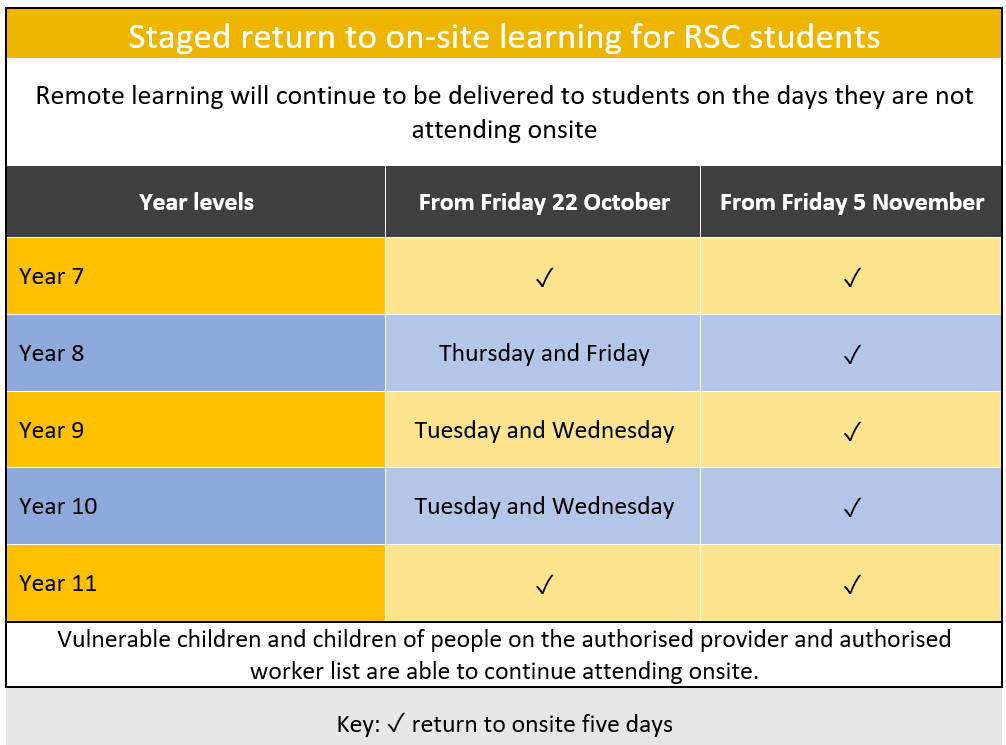 TERM 3 
1 September
The Victorian Government announced  that the current restrictions for Victoria will be extended until 23 September, term 3 will therefore be remote learning only. Visit Compass or the Government website for all the latest updates on Covid-19 and Lockdowns.
16 August
The Victorian Government announced  that the current restrictions for Victoria will be extended until 11.59pm on Thursday 2 September. Please visit Compass for more information. We look forward to seeing everyone back on campus next Friday 3 September.
12 August
The Victorian Government announced today that the current restrictions for Victoria will be extended for another seven days, until 11.59pm on Thursday 19 August. Please visit Compass for more information. We look forward to seeing everyone back on campus next Friday 20 August.
28 JULY 
Restrictions are lifted and all students can return to onsite learning on Wednesday 28 July. Masks must be worn inside and outside. Check Compass for school protocols and further updates.
JULY
Lockdown 5.0 has been EXTENDED until Tuesday 27 July at midnight. Onsite learning is planned for Wednesday 28 July. Remote learning will continue until then. Please check Compass for all communications regarding lockdown and remote learning. Thank you to our school community for their support in moving to back to remote learning.
Further updates will be communicated to students and parents/guardians/carers as it comes to hand.
TERM 2 
JUNE 
All Students return to onsite learning on Friday 11 June.
School staff and secondary school students aged 12 or older must always wear a face mask at school (both indoors and outdoors), unless a lawful exception applies.
For communication purposes, teachers and education support staff are not required to wear face masks while teaching, but those who wish to do so, can.
Face masks are mandatory for all school staff and school students aged 12 or older when travelling to and from school on public transport and when in taxis or ride share vehicles.
MAY 2021
As of Friday 28 May we are in a 7 day lockdown and remote learning will resume.
Please note Friday 28 May will be a student free day to allow for staff to prepare remote learning lessons.
Monday 31 May to Thursday  3 May all students will be learning from home.
Friday 4 June all students will return to learning at school.
Visit Compass for more information.
WELLBEING RESOURCES
For students, parents, staff and the community
We are open to talking, listening and supporting – whatever you need, even if you don't know what you need.
Watch Video: Meet our Wellbeing Team 
Wellbeing Support & Information
Mental health specialists agree that the social and mental impact of COVID 19 is great, diverse and far reaching.
The Wellbeing team at Rowville Secondary College continue to offer support to our community both remotely and on campus for VCE students.
We can be contacted via phone, microsoft teams or email.
Wellbeing Contacts & Ongoing Student Support
Wellbeing Staff: Andy Phillips, Joanne Johnson, Emma McLachlan, Michelle Furzer & Sean Venn.
Phone 9755 4555 (ask for Wellbeing East or Wellbeing West).
Important Wellbeing Resources
Our Wellbeing Team have sourced some excellent and helpful resources that our families would benefit from during this time to assist with remote learning and mental health.
HEADSPACE Resources
Need some Motivation? 
Here are some great resources from our Wellbeing Team to help you get motivated.
Support for parents carers and guardians >>
More Resources 
JULY 2020
On campus and off campus learning
All year 11 and 12 students are back to school for on-campus learning as of Monday 13 July.
Year 7-10 students have an extended week of school holidays from Monday 13 July to Friday 17 July.
Remote learning begins for all students in year 7 to year 10 on Monday 20 July.
Cafe is closed on both campuses until further notice.
Temperature checking occurs in Learning Mentor Group for all Year 11 and 12 students and at the office if a student is late to school.
School bus will operate on a modified timetable.
TERM 2 
LISTEN TO PODCAST: Teaching through the pandemic: lessons learned in and out of school
Listen to the University of Melbourne Podcast featuring our Principal Julie Kennedy, Teaching through the pandemic: lessons learned in and out of school. Ms. Kennedy discusses what's worked, what didn't and what RSC are  going to take with them into the future. You can read full transcript here (Julie begins on page 6).
WATCH VIDEO:  SRC Welcome Students Back to School
Our student representative council (SRC) welcome our students back to school. The SRC talk you through your rights and responsibilities back on campus during the COVID-19 pandemic.
SCHOOL RETURNS – May & June 2020
**No parents/guardians are allowed on school premises. If you need to contact us, please call 9755 4555. Or email your child's Learning Mentor in Compass.
Monday 25th May is a student free day, no online learning will occur on this day as teachers will be planning for the students return to school.
Tuesday 26th May – Year 11 & Year 12 return to school. (Year 7 to 10 continue with learning at home).
Tuesday 9th June – Year 7, 8, 9, 10 return to school.
APRIL 2020
ADVICE FOR PARENTS: How learning from home will work
Virtual Health Office at Rowville Secondary College
Our Rowville Secondary College Virtual Health Office is open and is being run by our school nurse, Ms. Stephanie Sear. If anyone in our school community; families, parents, teachers and students have any health issues and/or inquiries and question simply contact Stephanie by sending her an email in Compass.
The news about COVID-19 is not only unavoidable but also changing on a daily basis.  Rowville Secondary College will always work to ensure that our community is a healthy, safe one. Our goal is to help contain the spread of the virus to members of our community as best we can. Therefore, in line with departmental guidelines, the school is taking a series of actions. The following Rowville Secondary College events have been postponed or cancelled:
Open Nights
School Tours
Program Information Nights
RIA play
RSC Production rehearsals
Solo Nights
All extra -curricular and inter school sport competitions
All excursions including KIOSC
RSA Elite Coaching Camps
VCE Media Top Screen and NGV
RIA Junior Visual Arts Excursion
Woodwind Excursion – Multicultural & Women in sports awards
Student vs Police Basketball game
Bullying whole school activity on Friday 20th p.5
Events, excursions and camps for Term 2 will be assessed at a later date based on the most up-to-date advice.