Rowville Secondary
College Alumni
Be part of the story
"Rowville Secondary College has a long and proud history of educating thousands of students, across its east and west campuses against a stunning backdrop of the beautiful Dandenong ranges. Our Alumni Association seeks to bring those alumni together to (re)connect, network professionally and assist with building the alumni community at Rowville Secondary College to support the current students and advance the school into the future."
    Julie Kennedy, College Principal.
Join the Rowville Secondary College Alumni Association and be part of the growing story of our school's history and future.
We believe alumni are an essential part of Rowville Secondary College's community. In addition to attending reunions, alumni are uniquely placed to inspire current and future students and staff and provide career guidance and work experience opportunities, establish scholarships and bequests, or volunteer in lots of other ways.
At Rowville Secondary College we are building our alumni network and coordinating alumni involvement within the school to create a sustainable alumni culture across the school, benefitting current students and staff. We're doing this with the help of Ourschool, a not-for-profit service that helps public high schools build thriving alumni communities.
Our Alumni provide a crucial element of the school's culture. They provide memories, they endorse history and they are our greatest advocates. If you attended Rowville Secondary College since it first opened its doors in 1990 we would be delighted to hear from you.
We invite you back
We welcome our alumni back to on-campus to share their stories since leaving school and provide tips, advice and life wisdom with our current student cohort. We organsise small sessions with students and alumni. Contact us if you're interested in being part of this.
Connect with us
watch video
Hayden Crozier, AFL player and Class of 2011 alumni answers five questions from our student body about his time at RSC. He also provides key advice / tips for our students about his AFL career and life since leaving school.
alumni stories
Simon Reynolds | Class of 2009
"There is no word as can't – you

 

can. Take all the opportunities that come your way. Be kind to yourself and kind to everyone. Be you!"
Simon, a former School Captain from the class of 2009 shared his awe-inspiring story of becoming a circus performer and joining Cirque Du Soleil. Simon was accepted and studied at National Institute of Circus Arts at Swinburne University of Technology, he graduated top of his class and landed a once in a life time opportunity performing in Paris. Simon runs his own circus performance company in Belgium and is the Associate Director at On Stage Events, Former Artistic Coordinator at 'Fillage by Sure Mesure'.
He performs around the world! And he has been offered Cirque Du Soleil 7 times,  however Simon has not accepted the contract and decided instead to create his own companies.
Q&A Video Catch-Up Series 
The video Q&A catch up series is for past students to share their pathway after Year 12 and give our current Rowville students practical tips about study, work and getting a job. 
Kim Landy
Photographer
Class of 2008
Monica Lim
Senior Consultant
Class of 2011
Akshav Taneja
Mergers & Aquisitions 
Class of 2014
Errin Mullins
Recruitment Business Partner
Class of 2000
Madeline Williams
Professional Writer & Author
Class of 2004
Paulo Retre
Professional Footballer
Class of 2012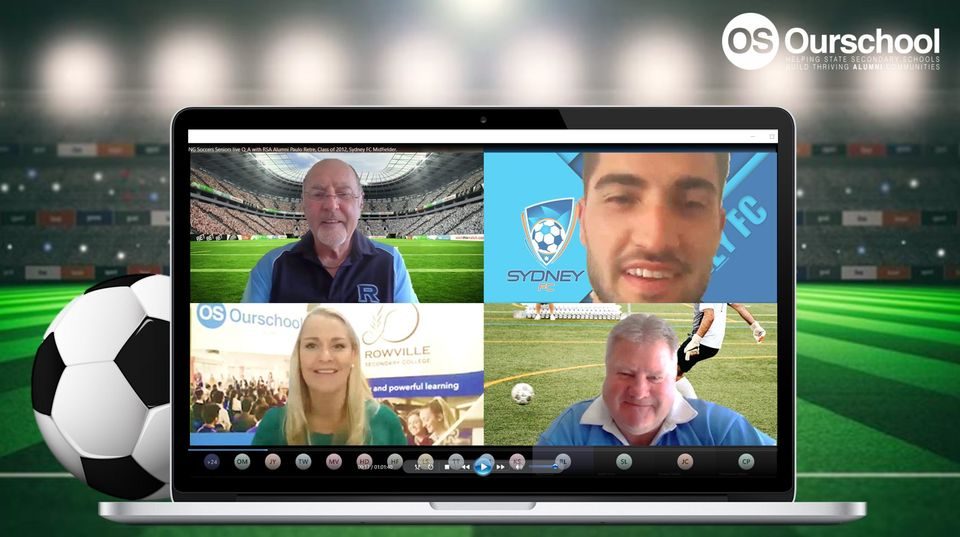 employment masterclass
Over 500 Rowville Secondary College senior students and 60 staff were privileged to be part of a live 'Alumni Masterclass,' covering professional interview skills, resume writing, LinkedIn profile-building and job-hunting advice.
Errin Mullins, (class of 2000), Recruitment Business Partner at South East Water and Richy Cartmell, (class of 2008) ANZ Social Network Community Manager & LinkedIn expert, gave their time and significant expertise to host a live Ourschool Q&A for students soon to be entering the adult workforce.
Their advice was invaluable. Errin gave students the inside track, revealing what a recruiter is really thinking/looking for, sitting across the desk from a candidate during interview. She also provided brilliant tips on how to make a resume stand out. Richard's in-depth knowledge of LinkedIn saw him provide students practical advice on how to build a powerful LinkedIn profile, and successfully network and job-hunt on the platform.
Huge thanks, Errin & Richard, for your generosity in letting students experience first-hand the super-supportive RSC alumni community!